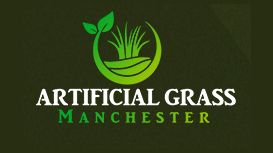 Artificial Grass Manchester are experts in artificial grass installation and cover the Manchester region. As well as Fake Lawns, for the home, they also install artificial play surfaces for schools and sports facilities. Artificial Grass Manchester like to pride themselves on the quality of their synthetic grass and on the quality of their service. Being able to consistently provide a good service and product is essential to building up a solid reputation for artificial grass installation in Manchester.
Artificial grass is used for lawns, putting greens, play surfaces in schools & nurseries, it is also used for hockey, football pitches, and various other artificial sports pitches. It is hard wearing doesn't fade in the sunlight and once installed really doesn't require much maintenance at all.
Many businesses use artificial grass for displays or events since it can be produced in different colours and can be made to incorporate a logo. It really is a versatile product. Artificial grass Manchester have over 10 years experience in supplying and fitting artificial grass Their product and service come fully guaranteed.
---
Reviews and Ratings
We do not have any reviews about Artificial Grass Manchester available right now.